ProximaX Powered Blockchain Energy Savings Consortium (BESC) Project Awarded USD250,000 Grant via EPC Blockchain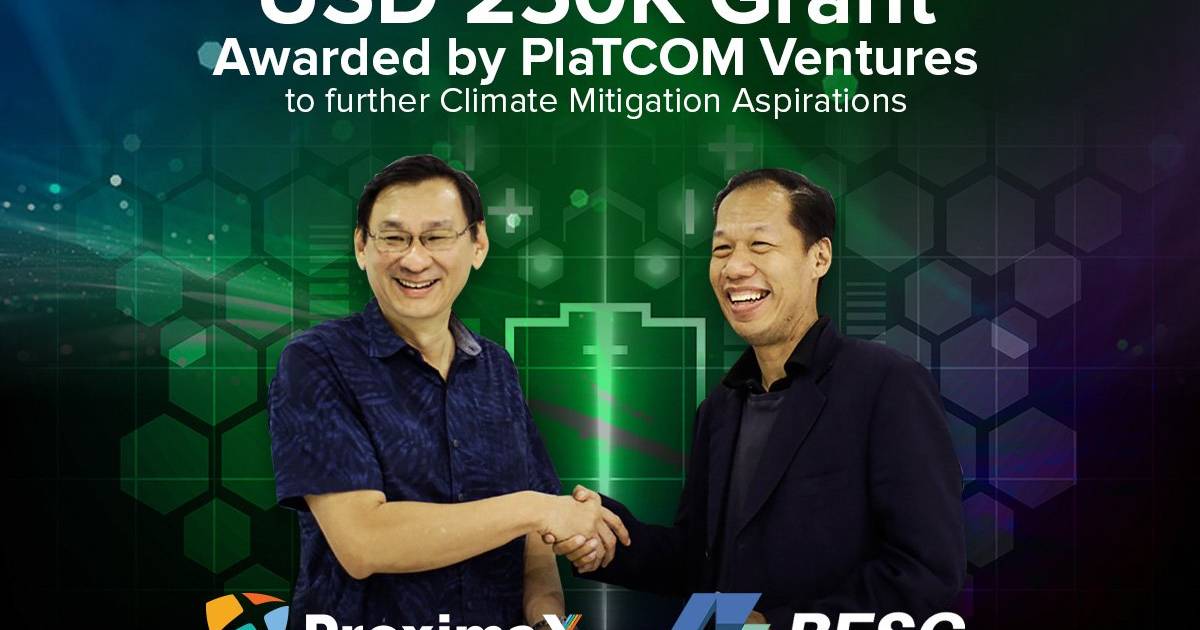 EPC Blockchain, a primary project on the BESC platform wins a much coveted grant from the Malaysian national technology commercialisation platform, PlaTCOM Ventures.
EPC Blockchain Sdn Bhd ("EPC Blockchain"), a Malaysian company committed to mitigating global climate change through the ProximaX-powered Blockchain Energy Savings Consortium (BESC), has been granted RM 1,032,045 (USD250,000) funding by PlaTCOM Ventures Sdn Bhd to further its project.
Founded by experienced energy experts, BESC utilises the ProximaX Sirius platform as a ledger to document and record data on energy generation, usage and reduction, as well as to keep track of, notarise, and trade Certified Emission Reductions (CERs) aka carbon credits and Renewable Energy Certificates (RECs). BESC also actively attracts global investors, promoting crowdfunding opportunities into energy efficiency and renewable energy projects.
After PlaTCOM Ventures had run an in-depth series of eligibility assessments, EPC Blockchain has then been successfully admitted into High Impact Programme 2 (HIP2) – Technology Commercialisation Platform (TCP) under the SME Masterplan 2012-2020. The programme designed by SME Corporation Malaysia (SME Corp) and Agensi Inovasi Malaysia (AIM) for SMEs is to help them seamlessly move their innovations along the complex stages of the commercialisation process.
In congratulating EPC Blockchain, ProximaX CEO Lon Wong said, "Firstly, we would like to congratulate EPC Blockchain for securing the grant from PlaTCOM Ventures. It is without a doubt an accomplishment that deserves recognition and global attention because it is supported by not just one technology accelerator investor in PlaTCOM Ventures but also from 1337 Ventures under the Khazanah NEO (Nasional Entrepreneurship Outreach) program and the Cyberview Living Lab Accelerator program."
"We are equally happy about ProximaX Sirius having an important role to play in BESC's blockchain-powered climate mitigation project. This is another demonstration of the vast utility of the Sirius platform and its application in yet another industry with a focus on carbon credit and energy management," continued Lon.
Through its patent-pending platform at BESC, where it is also building a Platform as a Service (PaaS) – a one-stop platform for energy monetisation, EPC Blockchain will play a critical role to the growing number of corporate companies heeding sustainable corporate business practices from the environmental, social, and governance (ESG) initiatives. To this end, BESC shall grow to be the ideal platform for companies seeking to level off their carbon footprint by purchasing carbon credits, monetising carbon credits from their carbon emission savings, helping project owners to raise funds from investors, and implementing energy projects. All these, supported by the all-encompassing ProximaX Sirius.
"Our confidence in BESC is credited to the reliability and robust scalability of the ProximaX Sirius platform and this has enabled us to venture out boldly," said EPC Blockchain's Chief Technology Officer Tan Lim Soon Fu. "We are now in the midst of piloting several projects including an energy efficient building, solar Photovoltaics (PV) at carpark rooftop as a source for renewable energy, and solar-powered charging stations for electric vehicles".
As a climate mitigation platform of choice, BESC will also retain information captured by intelligent energy management system related to electrical equipments' CO2 emission avoidance in industries, buildings and homes. Data from here shall be used as analytics for future climate mitigation purposes while at the same time serve as useful data points to monetise carbon credits in the BESC marketplace.
As a homegrown player, EPC Blockchain will do its best to support Malaysia's pledge to reduce 32 million tonnes of carbon emission by 2020 and a 45% reduction in greenhouse gas emission intensity by 2030, which the country ratified in 2015 with the Paris Agreement.
In a World Bank video, Malaysia's Minister of Energy, Science, Technology, Environment and Climate Change, YB Yeo Bee Yin stated, "We have implementations, we have roadmaps but what we really need right now is to facilitate the financing to realise all this potential".
It is hoped that the BESC Marketplace shall be the confluence of meeting points for project owners, corporations, service providers and decentralised apps developers.
The ProximaX Sirius platform supports a wide range of applications and solutions for many industries. To learn how this platform can benefit your business, please contact joe.chai@proximax.io.
About ProximaX ProximaX is a next-generation Integrated and Distributed Ledger Technology ("IaDLT") infrastructure platform solution powered by blockchain technology. It extends beyond traditional blockchain protocols by integrating off-chain, peer-to-peer storage, streaming, and database service layers that are often found in traditional software-as-a-service ("SaaS") centralised architectures. Together, the blockchain protocol and off-chain service layers form the ProximaX Sirius platform, the core development platform solution in the ProximaX ecosystem.
The ProximaX Sirius platform's use cases include, but are not limited to, KYC processes, business continuity, video streaming, health, identity, IoT devices and robotics, big data applications, records and reporting systems, traceability, legal and notary services, land registry, trade finance, workforce collaboration, messaging, and supply chain management.
Media Contact: Sue Ng | sue.ng@proximax.io Website: www.ProximaX.io
About EPC Blockchain EPC Blockchain aims to empower the general public to invest in energy efficiency and renewable energy projects by building a transparent, trustworthy and decentralised platform for tracking every facility's energy generation/savings, easing funding energy efficiency projects with a revolutionary crowdfunding model, and establishing a transparent, credible and auditable CO2 token monetisation and trading platform. Blockchain Energy Savings Consortium (BESC) is the blockchain platform to fulfill that ambition.
Contact: KT Man | bizdev@epcblockchain.com Website: https://www.besc.online/