ProximaX partners with Artemiz Innovations for National Security Surveillance from Satellites, powered by Blockchain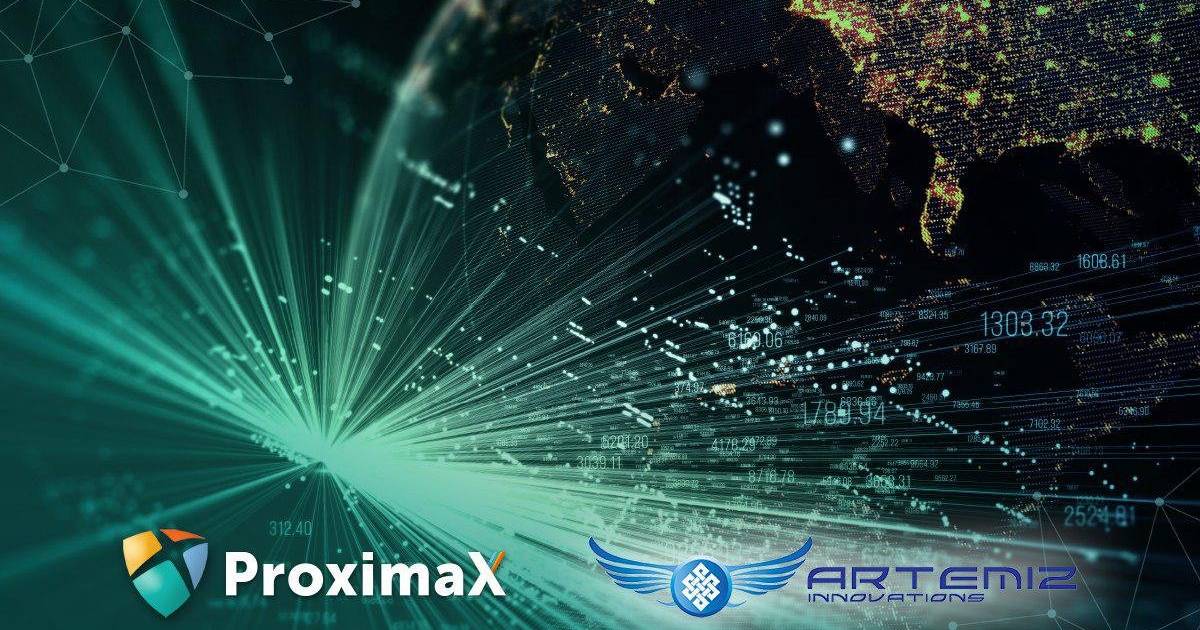 8 MAY 2019, KUALA LUMPUR, MALAYSIA – Artemiz Innovations Sdn Bhd ("Artemiz"), a revolutionary Malaysian space technology company owning locally developed patented IP for the integration of drones, earth imaging satellites and other land-based sensors to provide Real Time Actionable Insights directly to end users, has partnered with ProximaX, a blockchain powered next-generation Integrated Distributed Ledger Technology ("IaDLT") development platform.
Artemiz's satellite surveillance solution comprises of multiple micro satellites that will be launched into space to provide round-the-clock, real time, one-meter resolution geospatial imagery and videos that can overlook an entire nation. The crucial feature of this solution is that it is able to output an integrated display of a National Security Surveillance Picture ("NSSP") as captured by the micro satellites to detect and pre-inform on potential vulnerabilities.
Artemiz and ProximaX are working together on a strategic national security project to provide real time geospatial surveillance from a constellation of satellites. Artemiz Innovations is the project owner and operator of the satellites and ProximaX is providing its solutions to secure the geospatial satellite imagery data. Here, the ProximaX Sirius platform will be provisioned within Artemiz's satellite surveillance systems to enable data sharding, encryption, and decentralised file storage. The result of leveraging on the superiority of both companies' technologies is a powerful solution that will complement a nation's existing defence system.
"We could not be more excited to be working with Artemiz, who are clearly blazing the trail in the areas of satellite geospatial imagery and videography", says Lon Wong, Founder and CEO of ProximaX. "Our team is looking forward to contributing to the success of Artemiz. This partnership is a demonstration of the power of the ProximaX Sirius platform, in its ability to be easily integrated to produce a robust system that is as extensive and important as a country's national defence."
Currently, both Artemiz and ProximaX are working in a strategic partnership to promote the incorporation of ProximaX's solution into military projects belonging to Malaysia's Ministry of Defense, including the encryption and decentralised storage of sensitive surveillance asset data from satellites, drones, UAVs, and other military surveillance assets.
In response to positive results after rigorous testing and proof-of-concept completion early this year, Venkat Pillay, CEO & Founder of Artemiz said, "We have found the ProximaX's Sirius platform to be an ideal match for our satellite based surveillance solution. The multi-fold encryption and data sharding that it can perform from the point of capture, to downlinking to our servers, and then again to the end users is very unique and extraordinary. We are impressed that a system of such a calibre is available to us and that it can be deployed with speed and at a reasonable cost."
This fortuitous partnership comes at a time when ProximaX Sirius has already reached a progressive stage for adoption by government ministries. Case in point, the Ministry of Community and Development of the UAE counts as one of ProximaX's clients. Given the stature of its inherent technical superiority, "we are confident this blockchain powered satellite surveillance solution will be a great asset to any country that needs a highly secure and sensitive system that is almost impossible to compromise," said Lon.
From its feature-rich capabilities such as detecting the velocity of flight take-offs, encroaching "dark" vessels in the sea, vehicular movement on the road, to cloud avoidance technology, Artemiz and ProximaX combined solution enables a nation's ministry of defense to be better equipped with secure, accurate analytics with speed. Furthermore, the entire system is designed to be future proof (Industry 4.0 ready) and complete with IoT data fusion so that it can be easily integrated with newer technologies in future.
This satellite surveillance solution powered by blockchain can be extended to police forces, maritime enforcement agencies, and other defence related organisations. Contact us for a demo at joe.chai@proximax.io
About ProximaX ProximaX is a next-generation Integrated and Distributed Ledger Technology ("IaDLT") infrastructure platform solution powered by blockchain technology. It extends beyond traditional blockchain protocols by integrating off-chain, peer-to-peer storage, streaming, and database service layers that are often found in traditional software-as-a-service ("SaaS") centralised architectures. Together, the blockchain protocol and the off-chain service layers form the ProximaX Sirius platform, the core platform solution in the ProximaX ecosystem.
Use cases for the ProximaX Sirius platform include, but are not limited to, KYC processes, business continuity, video streaming, health, identity, IoT devices and robotics, big data applications, records and reporting systems, traceability, legal and notary services, land registry, trade finance, workforce collaboration, messaging, and supply chain management.
Media Contact: Sue Ng | sue.ng@proximax.io Website: www.ProximaX.io