Proudcloud is ProximaX's Latest System Integrator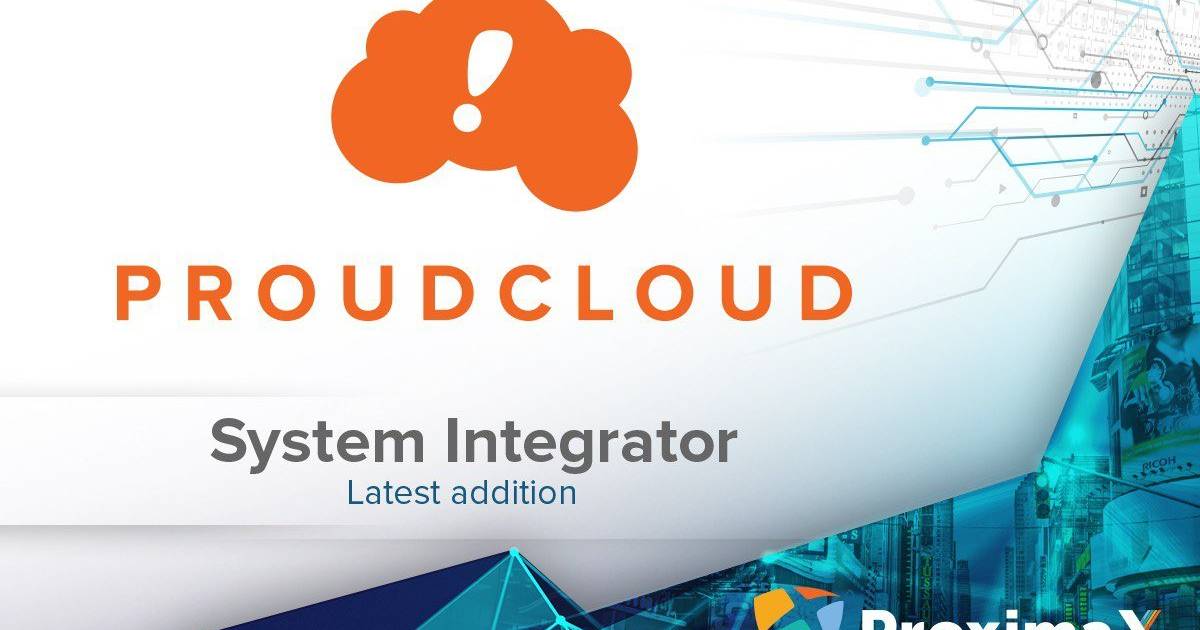 SINGAPORE / MANILA – ProximaX has welcomed Proudcloud as its latest system integrator. With over 10 years' experience in delivering software engineering to the North American, Australian, and South East Asian regions, Manila-based Proudcloud has established itself as a leading deep technology service provider.
Established in 2009, Proudcloud is a full stack development company proficient in cloud, web, and mobile technologies. Its technical CV includes blockchain/DLT protocols, Internet of Things, machine learning, artificial intelligence, and with hands-on experience in Ruby on Rails, Node.js, Python, TensorFlow, embedded systems and more.
"We foresee the synergy of our capabilities with that of Proudcloud enabling us to jointly develop integrated solutions that will be particularly impactful to the market. Our aim is always to pair our solutions with high-quality services, and this partnership with Proudcloud is pivotal to achieving our goals together," said Lon Wong, founder and CEO of ProximaX.
Jay Fajardo, CEO of Proudcloud who leads the 34-strong and growing agile tech enterprise is excited about the new partnership, "ProximaX is a world-class project and we look forward to working closely with their team in delivering the best service to our valued customers. ProximaX's solid technical background also makes them an important partner for us as we continue to expand our reach both regionally and beyond."
The immense knowledge base at Proudcloud is a crucial factor that helps it serve a wide range of clientele successfully. Its tried-and-tested methodologies of pairing programmers together, deploying agile methodologies to manage projects as well as tracking progress and quality through a variety of strategies such as Managed Code Repositories, End-to-end Test Coverage, and Continuous Integration are just some of the confident markers in this collaboration.
Under the agreement, Proudcloud will extend the full suite of services of a system integrator that includes acquisition of clients to maintenance and support, and together introduce the ProximaX brand and the ProximaX Sirius development and infrastructure platform to the market. The new partnership will unilaterally strengthen ProximaX's marketing position and provide new growth opportunities for both ProximaX and Proudcloud.
About Proudcloud
Proudcloud is a full stack development firm based in the Philippines that recognizes itself as a development lab for intelligent applications, data driven platforms, and the Internet of Things. Founded in 2009, Proudcloud is seated at the forefront of technological projects in cloud, web, mobile, and embedded platforms. With a constant appetite to implement the latest languages, frameworks, and datastore technologies, Proudcloud is an expert in Ruby on Rails, Node.js, Python, TensorFlow, embedded systems, and more.
Media Contact: Gab Melendres | gab@proudcloud.io Website: proudcloud.io
About ProximaX
ProximaX is a next-generation Integrated and Distributed Ledger Technology ("IaDLT") infrastructure development platform powered by blockchain technology. Known as ProximaX Sirius, this platform is comprised of off-chain, peer-to-peer storage, streaming, database, and blockchain layers in an all-in-one, easy-to-use development platform. Users of this platform may elect to use the various layers of the ProximaX Sirius development platform in a private, public or hybrid environment.
The immense flexibility and breadth of use cases of ProximaX Sirius development platform include, but are not limited to, KYC processes, business continuity, video streaming, health, identity, IoT devices and robotics, big data applications, records and reporting systems, traceability, legal and notary services, land registry, trade finance, workforce collaboration, messaging, and supply chain management.
Media Contact: Sue Ng | sue.ng@proximax.io Website: www.ProximaX.io