ECI Solutions to work with ProximaX as a technology partner for data management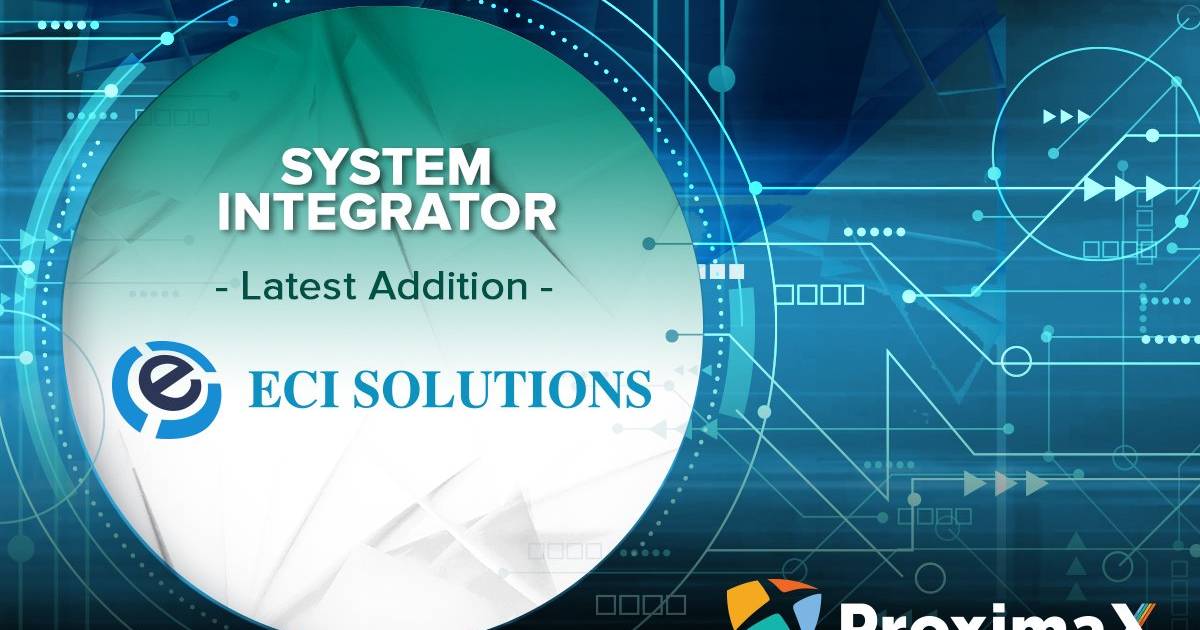 Malaysia / Kuala Lumpur, 20 June 2019 – ECI Solutions Sdn Bhd ("ECI Solutions"), a business specialising in copier and printer sales and services, Optical Character Recognition ("OCR"), document imaging processing, and document management systems has signed up with ProximaX as a technology partner.
As a Technology Partner, ECI Solutions will promote the ProximaX Sirius platform, specifically for the storage of data for use in data management services. This will be done via an open source content platform comprising a fully comprehensive enterprise content management system that provides document management, collaboration records management, knowledge management, web content management, and imaging.
Lon Wong, CEO of ProximaX said, "The safe-keeping of information and content is a critical aspect of any business today. As a veteran in the field of document and content management, ECI Solutions, with the use of the ProximaX Sirius platform is poised to change the way enterprises deal with the ever-growing volume of data that requires paperless, secure storage and management of data."
ECI Solutions and ProximaX will work together to co-develop solutions and jointly participate in Requests for Information ("RFI") and Requests for Proposals ("RFP") for tender exercises when required.
"There is an increasing sense of urgency amongst enterprises globally to digitise their data as the 'business-at-speed-of-paper' model becomes unsustainable," said David Tan, Solution Director of ECI Solutions. "The combination of the ProximaX Sirius platform and our expertise in document management is a powerful one and we are confident that together, we will be able to provide top-notch document storage and management solutions for enterprises of all sizes in a cost-effective manner."
ProximaX is continually developing and promoting its market leading Integrated and Distributed Ledger Technology ("IADLT") development platform. If you are a systems integrator interested in exploring a tech partnership with ProximaX, please contact joe@proximax.io.
About ProximaX
ProximaX is a next-generation Integrated and Distributed Ledger Technology ("IaDLT") infrastructure development platform powered by blockchain technology. Known as ProximaX Sirius, this platform is comprised of off-chain, peer-to-peer storage, streaming, database, and blockchain layers in an all-in-one, easy-to-use development platform. Users of this platform may elect to use the various layers of the Proximax Sirius development platform in a private, public or hybrid environment.
The immense flexibility and breadth of use cases of ProximaX Sirius development platform include, but are not limited to, KYC processes, business continuity, video streaming, health, identity, IoT devices and robotics, big data applications, records and reporting systems, traceability, legal and notary services, land registry, trade finance, workforce collaboration, messaging, and supply chain management.
Media Contact: Sue Ng | sue.ng@proximax.io
Website: https://www.proximax.io/
About ECI Solutions
Incorporated in 2001, ECI Solutions began as a company selling printer and copier services. Consecutive years of growth transformed the company into a viable player in the multi-platform business solutions provider industry. In 2014, ECI Solutions expanded and established itself as a private limited company, with one goal in mind – to maximise the returns on customers' IT investment.
ECI Solutions recognises that despite the changing landscape in business today, the presence of documents remains indispensable as a source of information and data. They have thus made it their mission to "Help Customers Succeed" through solutions that will improve document management both physically and digitally.
ECI Solutions prides itself as document management professionals that provide solutions and strategies to improve document management in the office. Their aim is to drive customer business productivity and performance through enhanced document management solutions and services.
Sales Contact: Mr Gan | gan@eci.my
Website: http://www.eci.my/