ProximaX and Morpheus Labs Collaborate to Drive Mainstream Blockchain Adoption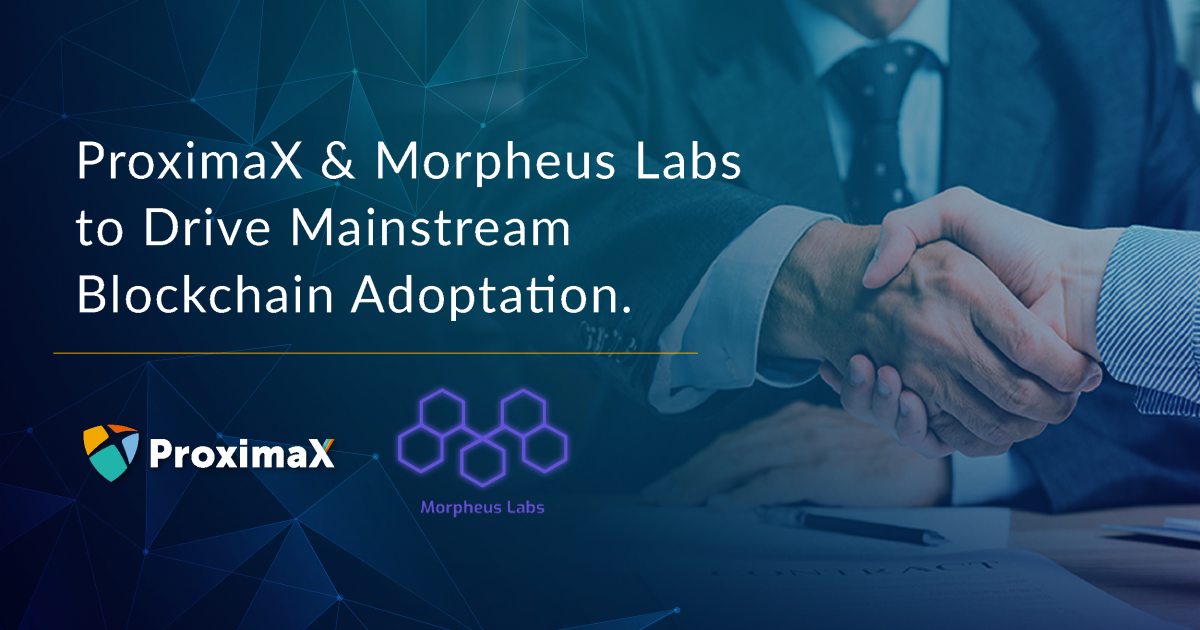 SINGAPORE: Morpheus Labs Pte Ltd ("Morpheus Labs"), a Singapore-based blockchain company that provides full-service, Blockchain-Platform-as-a-Service (BPaaS) solutions for rapid prototyping, easy deployment, and integration, partners up with ProximaX to drive the adoption, deployment, and use of blockchain technology via the ProximaX Sirius development platform.
Morpheus Labs' unique end-to-end blockchain platform is equipped with an app marketplace that works with multiple blockchain partners through its partner-driven model. This offers developers the opportunity to quickly jumpstart development through the utilisation of available blockchain nodes on its platform with an estimated savings of up to 60% on development time and 70% on development cost. Coupled with ProximaX's easy to develop platform, this could easily cut short development time by six to nine months.
CEO of Morpheus Labs, Chuang Pei-Han said, "We are excited about working with ProximaX's enterprise-grade development platform. This one-of-a-kind Integrated and Distributed Ledger Technology Platform is just what the market needs and our collaboration will allow us to leverage on each other's expertise, experience, and strength as we continue to aggressively drive the adoption of blockchain technology to mainstream enterprises."
The collaboration involves Morpheus Labs adopting the ProximaX Sirius development platform followed by joint marketing campaigns, business development, workshops, seminars, and events such as hackathons to promote blockchain adoption. Apart from commercially and technically supporting one another, ProximaX will also publish dApps onto Morpheus Labs' Application Library as a way of showcasing the uses of the ProximaX Sirius platform.
"Our shared mission is to promulgate blockchain as a secure, practical, and cost-effective platform for applications and it is this ideology that has brought us together," said Lon Wong, founder and CEO of ProximaX. "It is part of our strategy to work closely with partners and potential clients across platforms, genres, and markets to champion blockchain technology and also to promote ProximaX's Supercontract as a superior alternative to the Smart Contract."
The presence of ProximaX in the Morpheus Labs' Appstore serves to promote a healthy co-existence between all stakeholders in Morpheus Labs' development environment. It is hoped that the synergy between the two projects will push the envelope in building blockchain architecture and applications, especially with the multiplying effect of both Morpheus' and ProximaX's time saving development environments.
About Morpheus Labs
Morpheus Labs is a cloud based platform-as-a service (BPaaS) that simplifies building and deploying applications on blockchain. Rapid scaling business on blockchain, at a fraction of time and costs.
The BPaaS aims to create a comprehensive tooling environment and increasing blockchains to build with, supporting organisations and developers on their project development journey, from prototype to launch.
More information can be obtained from https://morpheuslabs.io/ and its development portal at https://docs.morpheuslabs.io/
About ProximaX
ProximaX is a next-generation Integrated and Distributed Ledger Technology ("IaDLT") infrastructure development platform powered by blockchain technology. Known as ProximaX Sirius, this platform is comprised of off-chain, peer-to-peer storage, streaming, database, and blockchain layers in an all-in-one, easy-to-use development platform. Users of this platform may elect to use the various layers of the Proximax Sirius development platform in a private, public or hybrid environment. The immense flexibility and breadth of use cases of the ProximaX Sirius development platform include, but are not limited to, KYC processes, business continuity, video streaming, health, identity, IoT devices and robotics, big data applications, records and reporting systems, traceability, legal and notary services, land registry, trade finance, workforce collaboration, messaging, and supply chain management.
Media Contact: Sue Ng | sue.ng@proximax.io Website: www.ProximaX.io