AlphaNu & ProximaX Launch Strategic Partnership to Target the Financial Industry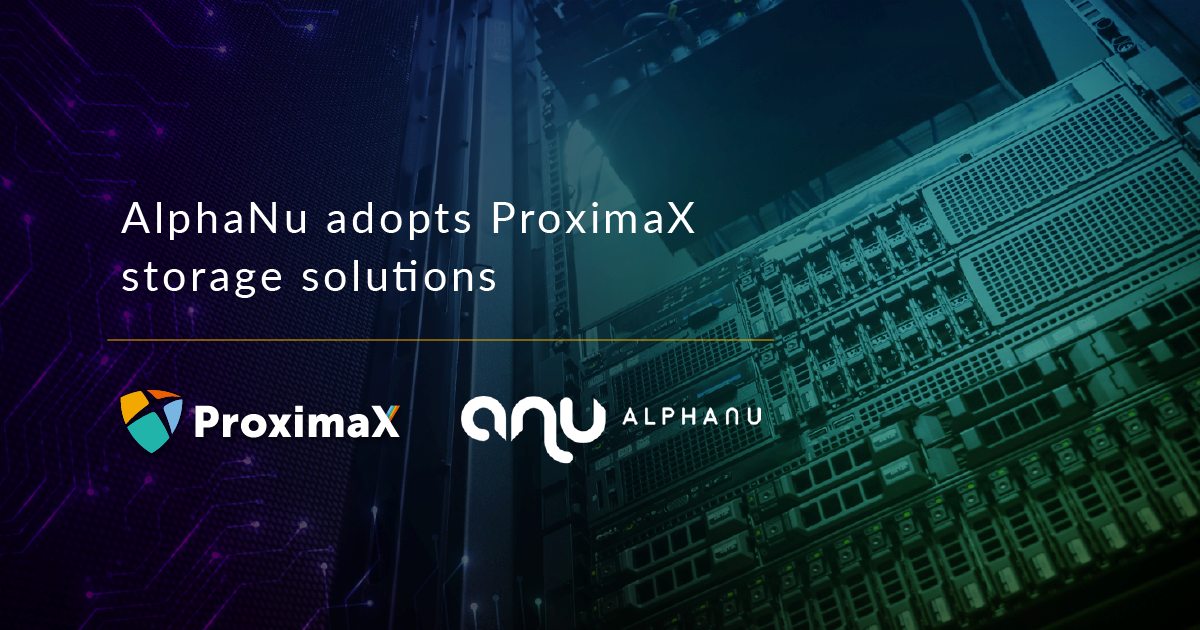 TAIPEI: AlphaNu, with its operations based out of Taipei, Taiwan, and ProximaX are happy to announce a partnership that will continue to push the envelope in the fintech industry. As a leading fintech firm with financial industry contacts, AlphaNu will market ProximaX's best in class blockchain storage solution to the financial sector. As part of the partnership agreement, AlphaNu will adopt ProximaX's storage solutions for storing its own trading data.
The financial industry is one of the largest users of data storage in the world, increasing 25% annually. Data storage growth rate is forecasted to remain strong going forward as banks and financial institutions offer more and more digital banking and services to their customers.
Storage solution with high efficiency and security is best in class
Paul Hsu, AlphaNu's CEO said, "We are excited to partner with Lon Wong and his team on this new venture. ProximaX offers one of the premiere blockchain driven storage solutions out there with its unparalleled efficiency and security. As a fintech company, we know the importance of having a low cost, yet secure, and efficient data storage system. And with banking becoming more and more digital, data storage needs can only grow bigger in the financial sector. Thus, we believe this engagement will be a financial success, as it leverages AlphaNu's industry contacts and ProximaX's engineering talent."
Deep industry understanding facilitates fintech development
ProximaX founder & CEO Lon Wong said, "The financial industry has long been on our customer focus list. We are thrilled to establish this engagement with AlphaNu to target financial institutions with our storage solutions. AlphaNu is a great partner as their team has over 60 years of combined experience in the financial and tech industry, with backgrounds in hedge funds, brokerage, and e-commerce. We believe their industry experience, and network spanning across the globe from Wall Street to Shanghai, will bring great insights into this partnership."
While many players are looking at blockchain to manage value or asset transactions, few have been working on how to manage data as part of the blockchain ecosystem. There needs to be convergence and this where ProximaX is able to bring convergence between data, analytics, and asset transactions, including the use of Supercontracts.
The ProximaX Sirius platform is not just a development platform for applications. It is also an infrastructure solution that doubles up as a highly efficient backend solution, taking blockchain solution to a new service level – a next generation blockchain solution.
About AlphaNu
AlphaNu is a marketplace that facilitates the subscriptions of powerful trading algorithms created by top Wall Street developers. With more than 60 years of combined experience in financial and tech industry, AlphaNu's team aims to democratize market access for everyone by creating an open ecosystem of traders, developers, and market observers working together to support algorithmic trading in a way which provides a more even playing field for all market participants.
Website: https://alphanu.io
About ProximaX
ProximaX is a next-generation Integrated and Distributed Ledger Technology ("IaDLT") infrastructure development platform powered by blockchain technology. Known as ProximaX Sirius, this platform is comprised of off-chain, peer-to-peer storage, streaming, database, and blockchain layers in an all-in-one, easy-to-use development platform. Users of this platform may elect to use the various layers of the ProximaX Sirius development platform in a private, public or hybrid environment.
The immense flexibility and breadth of use cases of ProximaX Sirius development platform include, but are not limited to, KYC processes, business continuity, video streaming, health, identity, IoT devices and robotics, big data applications, records and reporting systems, traceability, legal and notary services, land registry, trade finance, workforce collaboration, messaging, and supply chain management.
Website: https://www.proximax.io