Edenlab joins ProximaX as a Technology Partner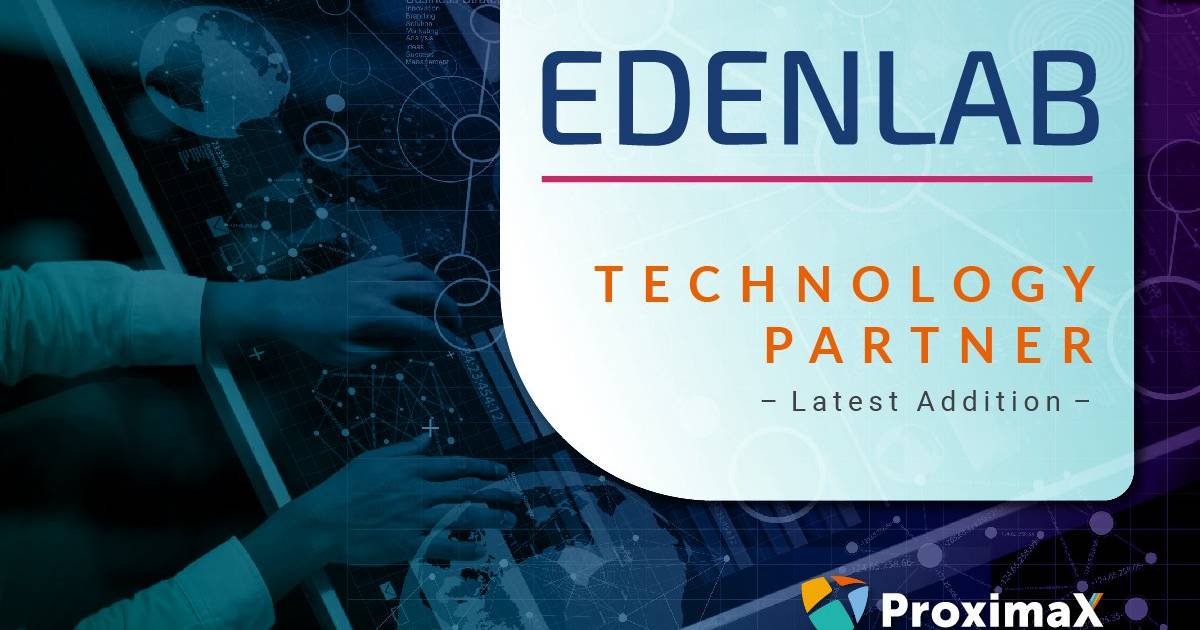 Edenlab ("Edenlab"), a Ukrainian boutique software and product development company primarily focused on fintech, medical technology, and blockchain has teamed up with ProximaX as a technology partner. This partnership adds to ProximaX's rapidly increasing number of technology partners to form a formidable force on the development front.
Edenlab is experienced in designing, architecting and developing highly secure and sophisticated products. Coupled with its team of highly-skilled architects and business analysts, they are well positioned to assist clients to transform business ideas into robust software solutions. Apart from developing solutions for clients, Edenlab has also rolled out its own applications such as Pay2You, Gndf.io and mbill.
Edenlab's portfolio of clients includes loan originators in Europe and several Ukrainian banks. In addition, Edenlab has recently developed a country-wide medical information system for the Ukrainian government to handle millions of accounts and personal records. This large scale project is intending to migrate and digitise the entire nation's offline medical documentation as part of Ukraine's medical reform. Both ProximaX and Edenlab are now actively looking at incorporating the ProximaX Sirius platform into the medical information system.
"We believe that Edenlab, with its extensive knowledge in fintech, medtech and blockchain coupled with its established business presence in Europe, will be an ideal technology partner to bring the ProximaX Sirius platform to its markets," said Lon Wong, Founder and CEO of ProximaX. "We foresee our development platform playing a significant role in enabling the adoption of blockchain in many industries and we are building a network of world class technology partners to speed up the adoption of our technology."
The agreement corresponds with ProximaX's expansionary strategy to engage system integrators and technology partners across the globe as it concurrently ramps up to the mainnet launch scheduled during Q3 of 2019.
"We are excited to be working with ProximaX's highly versatile development platform," says Stanislav Ostrovskiy, co-founder of Edenlab. "As a business partner for ProximaX, it is our ambition to match them in pace as we further the application of blockchain to our customers. Where possible, we will also integrate the use of ProximaX Sirius into the applications we build at Edenlab."
"With the ProximaX Sirius development platform now part of Edenlab's development equation, opportunities in Eastern Europe are expected to rise for both companies," concludes Lon about the partnership.
About ProximaX
ProximaX is a next-generation Integrated and Distributed Ledger Technology ("IaDLT") infrastructure development platform powered by blockchain technology. Known as ProximaX Sirius, this platform is comprised of off-chain, peer-to-peer storage, streaming, database and blockchain layers in an all-in-one, easy-to-use development platform. Users of this platform may elect to use the various layers of the Proximax Sirius development platform in a private, public or hybrid environment.
The immense flexibility and breadth of use cases of ProximaX Sirius development platform include, but are not limited to, KYC processes, business continuity, video streaming, health, identity, IoT devices and robotics, big data applications, records and reporting systems, traceability, legal and notary services, land registry, trade finance, workforce collaboration, messaging and supply chain management.
Media Contact: Sue Ng | sue.ng@proximax.io Website: https://www.proximax.io
About Edenlab
Edenlab is a boutique software and product development company with a niche in developing fintech, medical technology and e-Government solutions. The company is also well-versed with enterprise solutions using a diverse range of technical tools and platforms such as AWS/GCE, Docker/DockerHub/Kubernetes, JavaScript (Ionic Framework, PhoneGap), React Native, Objective-C , Elixir, C#/.NET, Node JS, Go and blockchain. For more information, go to https://edenlab.com.ua or email at welcome@edenlab.com.ua.