ProximaX Appoints Learnitude as a System Integrator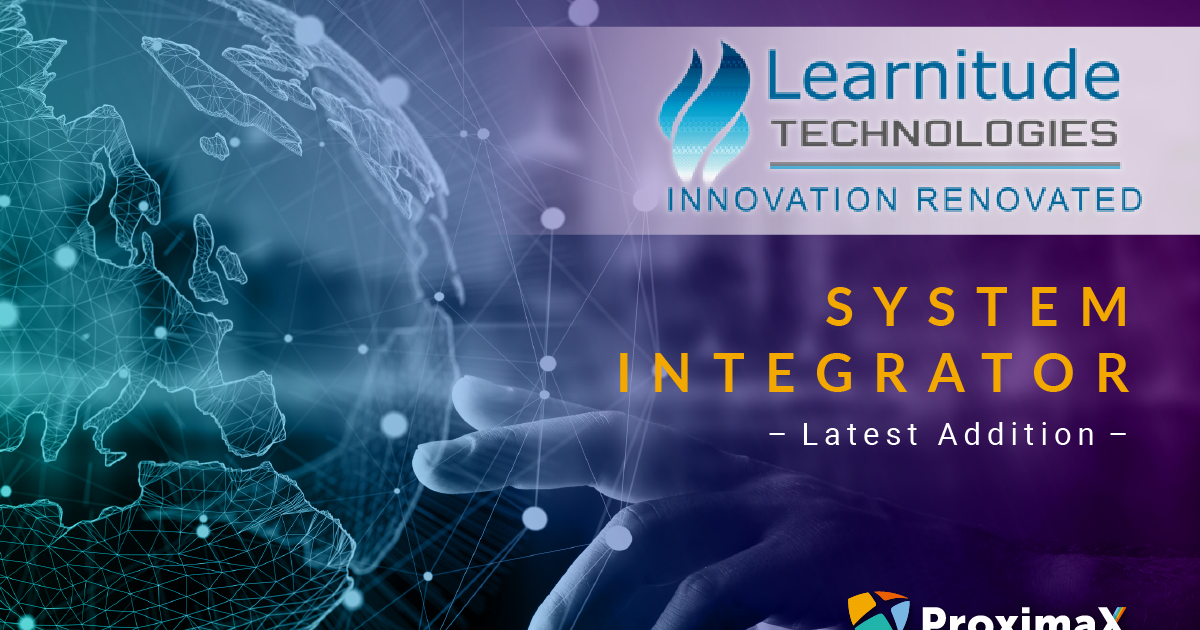 Learnitude Technologies ("Learnitude"), a highly skilled development company with experience in building mobile apps, ERP systems, and blockchain solutions has partnered with ProximaX, opening the way for ProximaX's expansion into Learnitude's markets in India, Singapore and Malaysia.
From industry verticals to end-user usage and familiarity, Learnitude has expedited solutions of differing levels of complexity in sectors such as electronics chip manufacturing, preventive healthcare analytics, digital advertising management, transportation, HR, CRM, education, e-commerce, IoT-based vehicle management systems for gated communities, blockchain development, and artificial intelligence.
"Learnitude's solid resume is an attestation of their innovative mindset to meet and lead market needs. We believe that the ProximaX Sirius development platform will further extend Learnitude's offerings to enable highly innovative yet practical solutions while bringing down the total cost of ownership. Expect growth and opportunities to take place" says Lon Wong, Founder and CEO of ProximaX.
"We are rather advanced in our development methodology and as such we endeavour to transform our clients' businesses with the right selection of technology, according to their needs and budget," explains Saswat Panda, CEO & Managing Director of Learnitude. "The ProximaX Sirius platform comprises of cutting-edge distributed technology that is simple to work on thus saving both time to market and overall cost, and this is something we are excited to offer to our clients."
Under this agreement, Learnitude may also participate in tender exercises by offering ProximaX Sirius as its preferred blockchain technology. Where applicable, ProximaX will support the partnership in terms of marketing, technology support and maintenance.
"This is a holistic blockchain solution we feel has the propensity to change the business landscape of our clients dramatically without the usual "baggage" that comes with conventional modules and technology brands. We look forward to a strong future together," concludes Saswat.
About ProximaX
ProximaX is a next-generation Integrated and Distributed Ledger Technology ("IaDLT") infrastructure development platform powered by blockchain technology. Known as ProximaX Sirius, this platform is comprised of off-chain, peer-to-peer storage, streaming, database, and blockchain layers in an all-in-one, easy-to-use development platform. Users of this platform may elect to use the various layers of the Proximax Sirius development platform in a private, public or hybrid environment.
The immense flexibility and breadth of use cases of ProximaX Sirius development platform include, but are not limited to, KYC processes, business continuity, video streaming, health, identity, IoT devices and robotics, big data applications, records and reporting systems, traceability, legal and notary services, land registry, trade finance, workforce collaboration, messaging, and supply chain management.
Media Contact: Sue Ng | sue.ng@proximax.io Website: https://www.proximax.io
About Learnitude Technologies
Headquartered in India, the "Innovation Renovated" company also has a presence in Singapore and Malaysia. The company is made up of a group of technical experts, consultants, and front-facing business development professionals that are well assimilated into the industry with niche and impressive verticals as part of its client-base. Learnitude aims to build efficient business solutions and marketable products while often seeking collaboration opportunities as a platform for business expansion. For more information, go to https://learntechx.com/ or email info@learntechx.com.