ProximaX and LOGYCA Advance Rapidly in Transforming Information Exchange in B2B Supply Chains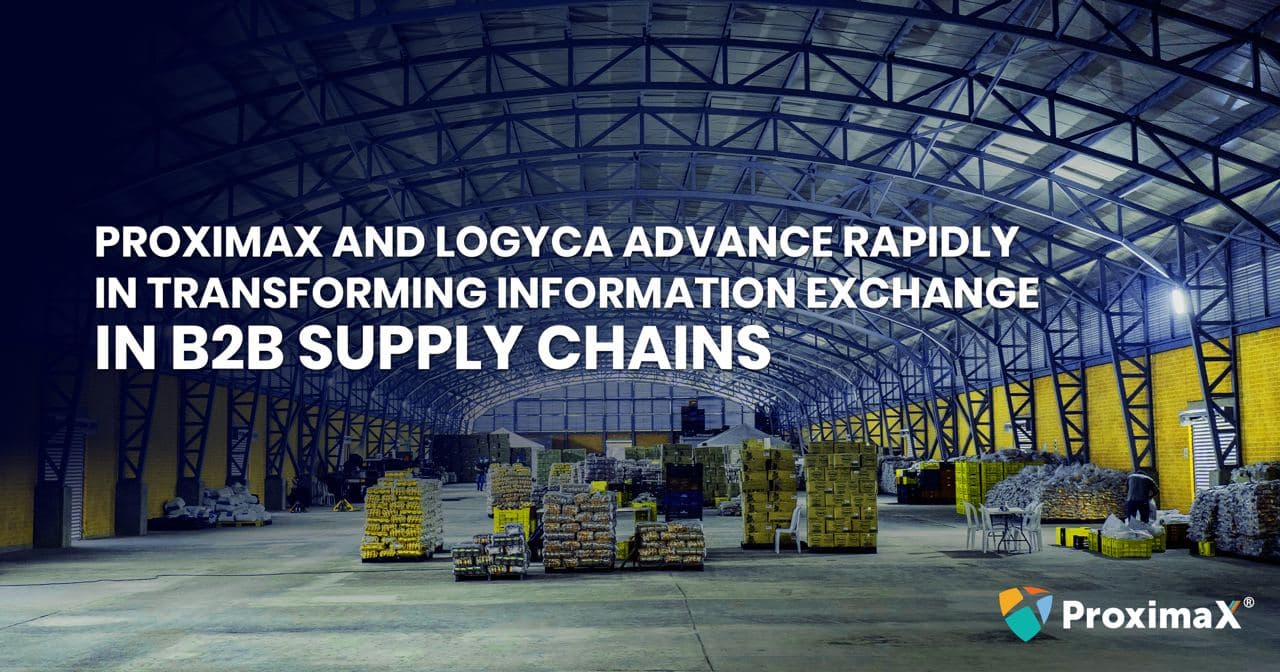 In 2020, ProximaX partnered with LOGYCA, the pioneer and leader in logistics knowledge development in Latin American, to disrupt the exchange of information in B2B supply chains. The aim was to use blockchain to make the process more time and cost-efficient and less prone to discrepancies. The collaborative project was dubbed "Transformation in the Exchange of B2B Information."
The ongoing efforts for this transformation have started to bear fruit and we are proud to share the latest updates on the progress of the project.
The first phase of the project was to create the MVP of the solution and we have successfully completed that. The requests with the Electronic Data Interchange (EDI) protocol are now already in operation through purchase orders and receipt notice. At present, developers are working to integrate the XML standard into the solution.
ProximaX is also using its proprietary Sirius platform to develop a private blockchain-based network called "LOGYCA Supply Chain Business Network." It will provide a new distributed backbone that will offer a tamper-evident record of relevant events to all participants of the supply chain in real-time. This will not only shorten the redundant manual documentation process but also reduce the chances of errors.
Apart from that, we also conducted a meeting with LOGYCA partner companies to discuss the pilot plans and showcase the potential of blockchain in offering speed, traceability, and immutability to the data transfer process. We were pleased to receive an overwhelmingly positive response from the attendees, who now look forward to utilizing our solution.
Considering the progress so far, we are confident that the collaboration between ProximaX and LOGYCA is on the right track. We are looking forward to greater results in the near future and as we tread down this new track of innovation, we will keep you updated.
About LOGYCA
LOGYCA is an industry leader in Latin America where it has been working for the past 30 years to bring innovation in the logistics sector through collaborative work. It aims to build communities that follow the best logistics practices and international standards so they can attain maximum productivity in business processes. At present, the company has more than 1,500 members and 118,000 client users.
Website: https://logyca.com/nosotros/

About ProximaX
ProximaX is a next-generation infrastructure and development platform powered by blockchain technology. It extends beyond the general definition of blockchain protocols by allowing the integration of off-chain, peer-to-peer storage, streaming, and database service layers. The blockchain protocol and the off-chain service layers form the ProximaX Sirius platform form the core platform solution in the ProximaX ecosystem. ProximaX is built for scalability and can include more services in the future without compromising on performance. It is a unique enterprise-grade platform developed on proven technologies and is available in a private, public, and hybrid network configuration.
ProximaX's extensive utility and flexibility can be used for a wide range of use cases that include, but are not limited to, W3C-compliant digital identity, KYC, video streaming and chat, IoT and robotics, big data and AI, records and reporting, business continuity, legal and notary services, medical records, land registry, capital markets, e-payments and core banking, and supply chain management.
Enterprise Website: www.proximax.ltd
Public Chain: www.proximax.io