ProximaX to Present mWallet at Huawei Cloud's Inaugural FinTech Digital Innovation Symposium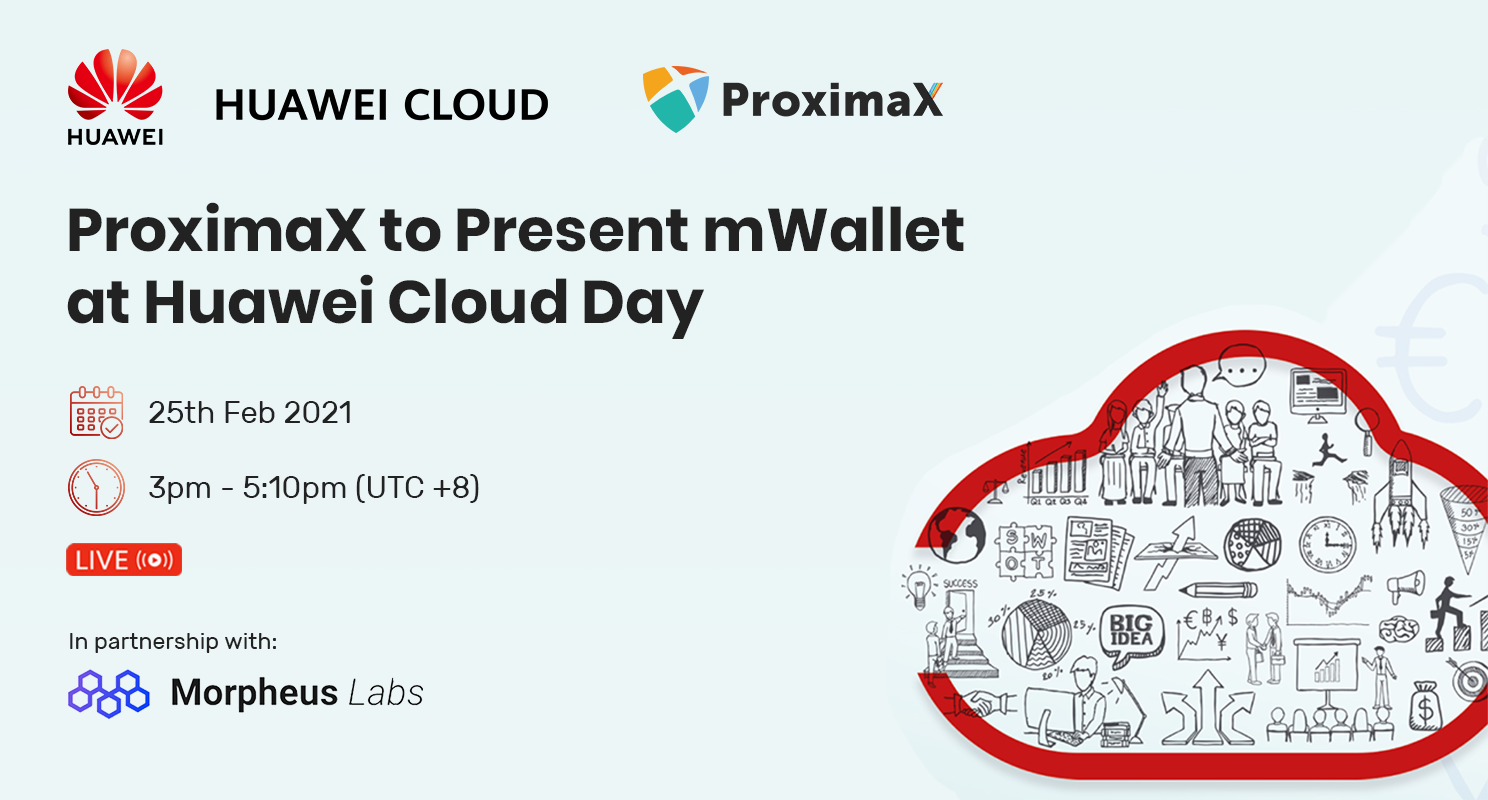 Singapore: ProximaX is delighted to announce that it has been invited by infrastructure partner Morpheus Labs, to present its blockchain-powered mobile wallet solution at the inaugural Huawei Cloud webinar on 25th February 2021.

Singapore-based Morpheus Labs was founded in 2016 to offer full-service Blockchain-Platform-as-a-Service (BPaaS) solutions to develop, deploy, and integrate applications on blockchain technology.
Its aim is to bridge the gap between mainstream programmers and blockchain technology by offering much-required tools and infrastructure to further blockchain adoption across enterprises and mainstream developers. This enables a better possibility to experiment with and create blockchain applications without a huge development cost. As per stats, developers and enterprises can save about 60% of time and 70% of development costs while developing blockchain solutions.
As a strategic infrastructure partner, Morpheus Labs will help ProximaX attain more exposure through various events and potential collaborations, the first of which is already underway.
Morpheus Labs is co-organizing the first-ever Huawei Cloud Fintech Digital Innovation Symposium. ProximaX, which recently became a Huawei Cloud technology partner will present its blockchain solutions to help enterprises understand the potential of blockchain and how it could improve their businesses. The overall aim of the event is to raise awareness about blockchain so more businesses can reap its benefits, move toward a more digitalized future, and also take blockchain toward mainstream adoption.
During the symposium, ProximaX will showcase mWallet, the world's first blockchain-based mobile wallet built to easily connect customers to businesses, alongside other solutions and applications. It will also bring to the forefront its distributed asset management and neo banking solutions including eDLX and nCore, which together offer enterprises the possibility to develop applications on its resilient and highly scalable infrastructure.
About Morpheus Labs
Morpheus Labs is a cloud-based blockchain platform-as-a-service (BPaaS) that simplifies building and deploying applications on blockchain. Rapid scaling business on blockchain, at a fraction of time and costs. The BPaaS aims to create a comprehensive tooling environment and increasing blockchains to build with, supporting organizations and developers on their project development journey, from prototype to launch.
Official Website || Development Portal.
About ProximaX
ProximaX is a blockchain-based infrastructure and development platform project that combines blockchain technology with distributed service layers. It integrates blockchain with distributed and decentralized storage, streaming, database, and Supercontract (enhanced smart contract) service layers to create an all-in-one, easy-to-use platform. ProximaX is built for scalability and can include more services in the future without compromising on performance. It is a unique enterprise-grade platform developed on proven technologies and is available in a private, public, and hybrid network configuration.
ProximaX's extensive utility and flexibility can be used for a wide range of use cases that include, but are not limited to, W3C compliant digital identity, KYC, video streaming and chat, IoT and robotics, big data and AI, records and reporting, business continuity, legal and notary services, medical records, land registry, capital markets, e-payments and core banking, and supply chain management.
Media Contact: Sue Ng | sue.ng@proximax.io Website: www.ProximaX.io