ProximaX SiriusID Decentralized Identifier Method Accepted and Published by W3C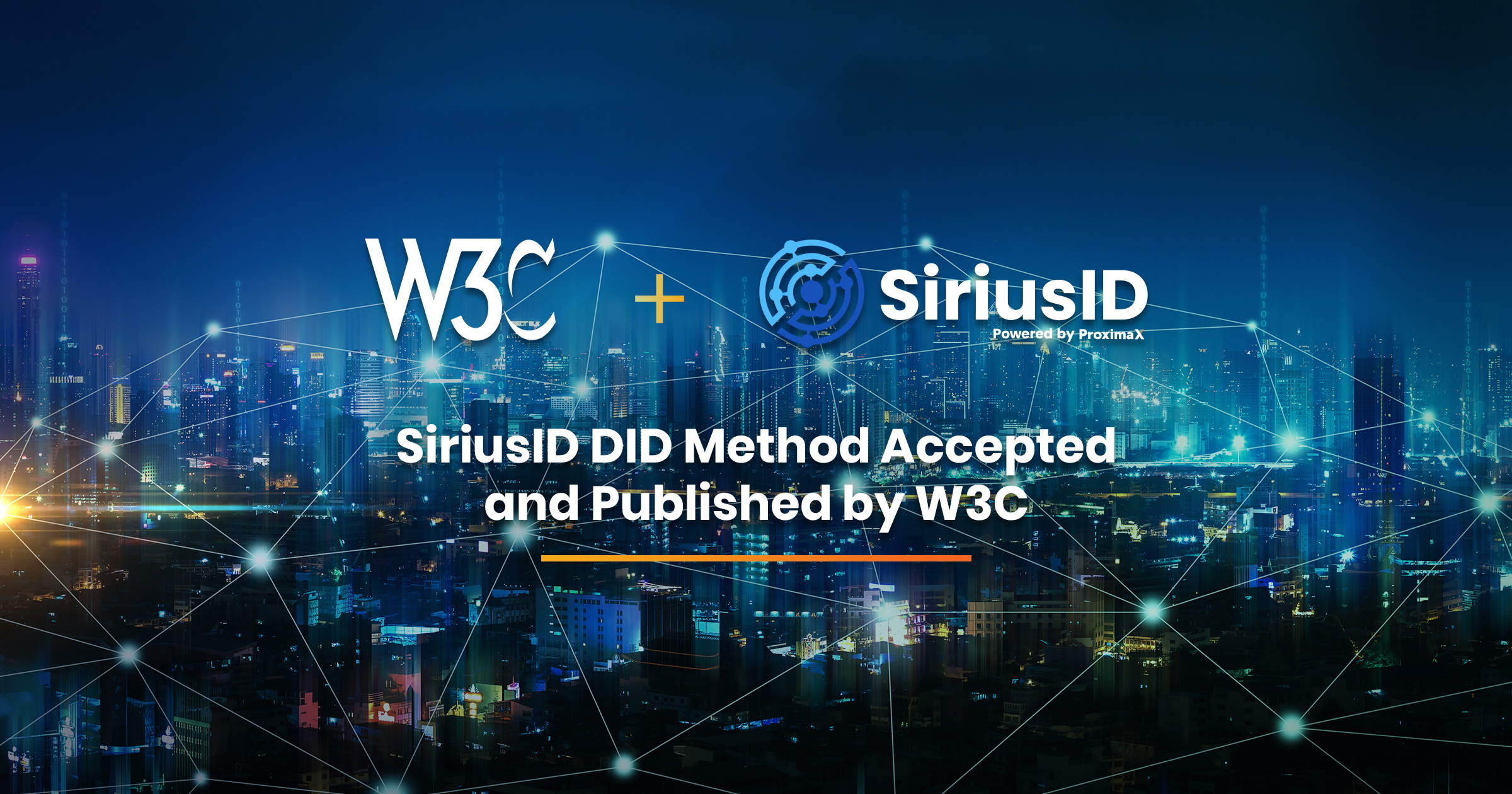 Singapore / 8th July 2020 — ProximaX SiriusID Decentralized Identifier ("DID») method was accepted and published by the World Wide Web Consortium ("W3C"), the leading international standards organization for the Web. The W3C DID standards are designed to enable interoperability of identification systems across different autonomous decentralized networks.
A DID is a new unique type of identity identifier that enables verifiable and decentralized digital identities. It allows individuals and organizations to generate identifiers using trusted systems and to prove control of those identifiers (authenticate) using cryptographic proofs (for example, digital signatures, privacy-preserving biometric protocols, and so on).
In contrast, the vast majority of unique identifiers currently used are not under our control, such as communication addresses (telephone numbers, email addresses, usernames on social media), ID numbers (for passports, drivers licenses, tax IDs, health insurance), and product identifiers (serial numbers, barcodes, RFIDs). These are all issued by external authorities that decide who or what they identify and how they are recovered and revoked. They are useful only in specific contexts and recognized only by particular bodies (not of our choosing). They may disappear or cease to be valid with the failure of an organization. They may unnecessarily reveal personal information, and in many cases, can be fraudulently replicated and asserted by a malicious third-party («identity theft»).
DIDs enable a human-centric control over the generation and assertion of unique identifiers. Each individual and organization can have as many DIDs as needed to represent and respect the desired separation of identities and personas in specific contexts. Using these identifiers, we can interact with other people, institutions or systems that require us to identify ourselves (or things we control) while maintaining control over how much personal or private data should be revealed, and without depending on a central authority to guarantee the continued existence of the identifier.

One key advantage of Sirius ID is that it uses the ProximaX Sirius platform as the resilient, and secure data storage component. Solutions that incorporate SiriusID will not only adhere to the global W3C standard, but also have access to a robust decentralized technology stack to securely manage massive amounts of private and personal data.
About SiriusID
SiriusID by ProximaX is a W3C-compliant digital identity solution that uses the self-sovereign identity («SSI») security model. As a complete plug-n-play stack, it is a blockchain-powered platform that allows anyone to develop their digital ID solution via its APIs and SDK. The solution uses the ProximaX Sirius platform as the resilient data storage mechanism that incorporates several decentralized services, including storage, streaming, database, and Supercontract (enhanced smart contract). Also available is the SiriusID identity wallet mobile app, a ready-to-use white-label product to manage identifiable data and credentials.
About W3C
The World Wide Web Consortium ("W3C") was founded in October 1994 to lead the World Wide Web to its full potential by developing standard protocols that promote its evolution and ensure its interoperability. Today, W3C has over 450 Members and nearly 70 full-time staff worldwide who contribute to the development of W3C specifications and software.
About ProximaX
ProximaX is a blockchain-based infrastructure and development platform project that integrates blockchain technology with further distributed and decentralized service layers: storage, streaming, database, and Supercontract (enhanced smart contract). This creates an all-in-one, easy-to-use platform. ProximaX is built for scalability and can include more services in the future without compromising on performance. It is a unique enterprise-grade platform developed on proven technologies and is available in a private, public, and hybrid network configuration.
ProximaX's extensive utility and flexibility can be used for a wide range of use cases that include, but are not limited to, W3C-compliant digital identity, KYC, video streaming and chat, IoT and robotics, big data and AI, records and reporting, business continuity, legal and notary services, medical records, land registry, capital markets, e-payments and core banking, and supply chain management.
Media Contact: Sue Ng, sue.ng@proximax.ltd