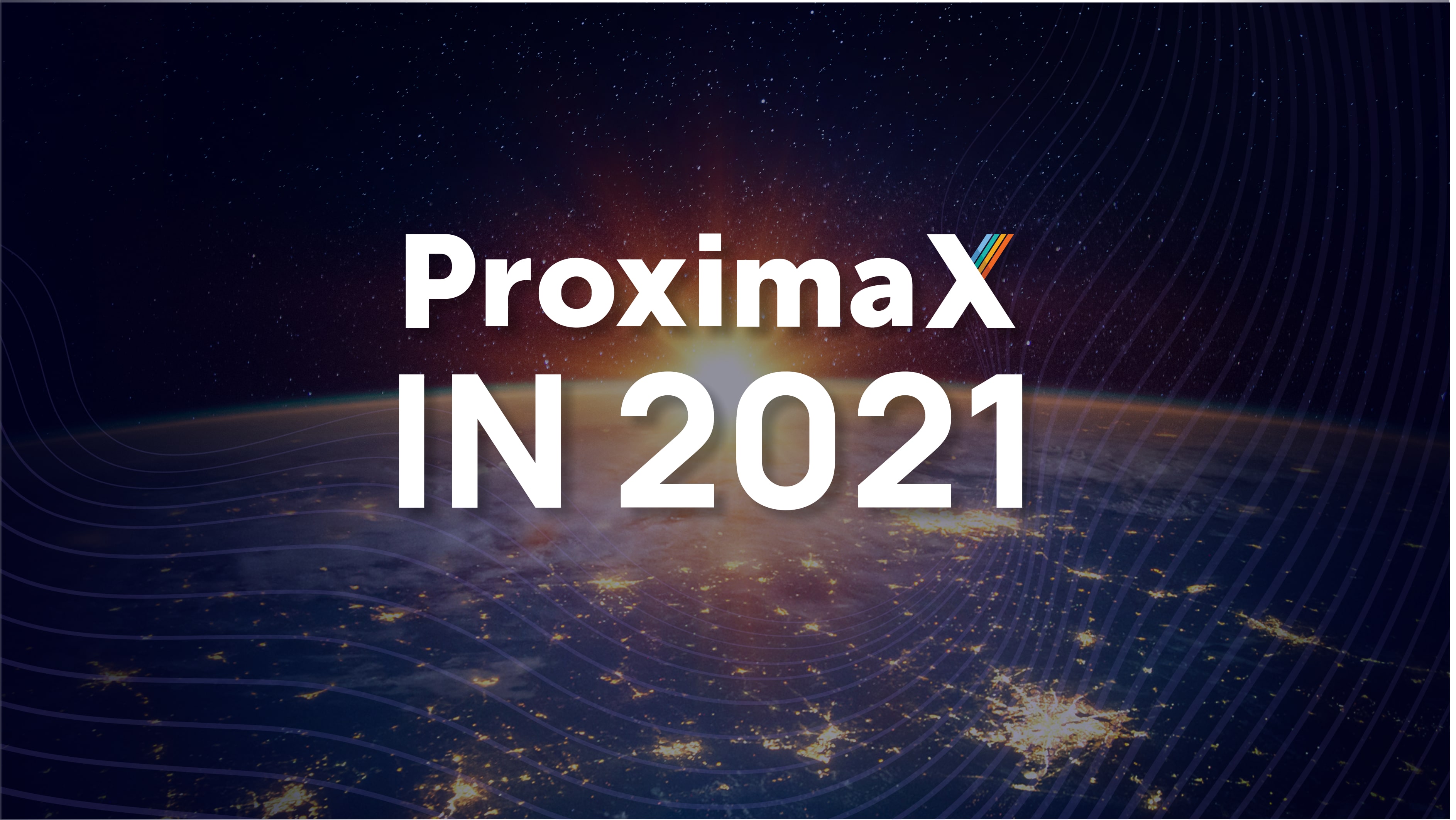 Another year just flashed past us again with the COVID-19 problem continuing to affect us all socially, economically, physically, and mentally. I guess this will be the case for a long while more until they find a panacea for it.
After a tumultuous start to the year with a major restructure, we had gone through a lot of developmental changes in terms of the organization itself, and the design and development of the core. I have flattened the organizational structure of ProximaX now with each project group being headed by its respective lead on a regional basis. Eleazar heads Latin America, while Shin Neng looks after South East Asia. Our core development is being championed by Oleg and his team. He has been instrumental in regrouping the team and working towards getting the core solution up and running. We took close to seven months to redesign the service layers and started to code the new design in August this year. We had to do this because the original design was not optimal and lacked in-depth consideration of many things. This was due to indecision and poor technological leadership and direction at that time, which led me to reform and revamp the organization. We have now overcome most of these issues, put better management processes in place, and we are coming out stronger than ever.
Storage as a core service layer of our ProximaX Sirius platform is important for the other service layers to work. Streaming relies heavily on the storage layer as it needs to store its content there, whether in transit (live) or in storage (playback). Additionally, Supercontract requires the storage layer to store code, often also storing results from Supercontract executions.
The last four months have been spent on making the storage layer more robust for production. First, ensuring it works well on one node and then later, extending it to a few nodes, and now we are finishing to make it work on unlimited distributed nodes. We hope to roll out the storage layer on testnet before the end of Q1, 2022. Concurrently, we are working to finish the streaming layer which shouldn't take much longer than the storage to complete. Finally, we hope to finish the Supercontract before the end of Q2 2022.
As we progress towards the completion of the service layers, we are also putting together various tools to make the service offering complete. These include SDKs, APIs, the explorer, and the wallet. We are also enhancing the blockchain and merging our codebase with the relevant code from the Symbol blockchain. New features to look forward to include transaction finality; delegated and remote harvesting; staking XPX as a locked fund for other rewards; DEX; modifying the keypair implementation scheme; update and upgrade the SiriusID to be inline with W3C which is evolving rapidly; and roll out Silo, a cloud-based instant messaging service enhanced by blockchain encryption. All these will be rolled out in various stages throughout 2022.
On the gaming front, we are continuing to develop the Xarcade marketplace as a portal for game developers and gamers to publish their games and for gamers to download/play these games. Unfortunately in December 2021, Typhoon Rai hit South East Asia and crippled parts of southern Philippines where some of our developers reside. In addition to the displacement and devastation left by the typhoon a severe and extended power outage also ensued. We have been making arrangements to bring some sense of normality back to the lives of our team members and get them online so that the development of the Xarcade marketplace can continue. It is our hope to launch this marketplace as the first of many great centrepieces of the ProximaX public network and we are optimistic that we will see great utility of the XPX in time to come.
As part of an extension of the Xarcade marketplace, we are also designing our version of a metaverse. Named MetaXar, our metaverse is unique in that it does not place emphasis on NFTs but instead, makes it an incidental feature. The tokenomics for MetaXar will be tied in closely with ProximaX Sirius tokenomics. In fact, it is going to play a very important role as a catalyst to the tokenomics of ProximaX in the immediate term. Akin to what is commonly termed as Parachains, the MetaXar project is like a "Para-economy" of the ProximaX project.
The entire crypto landscape is fast evolving and it is imperative that our project evolves and adapts as quickly too. Fortunately, our platform solution has most of the elements needed to quickly change and meander through the ever changing terrain, and I am happy to say that we are well prepared for that. In our initial tokenomics plan, XPX was supposed to be designated as a utility coin. Today, as we evolve, XPX shall also be used as a precondition to partake in other tokenomic initiatives. For example, in the MetaXar project, we shall be airdropping a token associated with the project – MetX – and only those who possess XPX and/or XAR can claim for this token through a conditional airdrop. MetX is therefore minted on the fly as a reward for those who participate in the activities of the ecosystem. Initially, about 9.2 million units of MetX shall be minted and airdropped. Later, owners of XPX can stake XPX by locking their XPX funds to gain more MetX as they harvest and participate in the validation of ProximaX transactions. The utility of MetX is explained in our paper titled "Metaverse Autonomous Economy", or MAE in short. It gives a new dimension to the value of MetX and correspondingly, to the value of XPX. XPX is finite and its supply will deplete through the passage of time from lost keys. All of it has already been distributed and therefore no more can be minted. MetX will add a new twist to our tokenomics, in line with other initiatives, including DeFi initiatives which can be implemented on the platform once the Supercontract service layer is ready.
Having XPX allows us to have a strong say in the consensus mechanism. It is also a precondition for us to have a strong influence in the tokenomics of the ecosystem, e.g., MetX can only be rewarded to an XPX holder, which will be used for something else in the ecosystem. As we progress to build more ecosystem components, more tokens can be created to perpetuate the need for XPX to power the economy. This indirectly pushes the demand for XPX in the long term.
Many people have asked us how we are different compared with other storage projects, Smart Contract projects, and streaming projects. To answer this, we should liken the ProximaX Sirius platform to what Aristotle once said, "The whole is greater than the sum of its parts." Our platform has been designed in such a way that each service layer, while being useful on its own, contributes to a holistic development environment which individually, the service layers cannot provide. While we are a storage project, a streaming project, and a Smart Contract project, we are at the same time a project that provides an all-in-one infrastructure that can spawn all sorts of ecosystem projects. We are breaking new ground when it comes to utility and we hope to carry this through in the years to come, especially when developers start to discover that they don't need to do Supercontract on one chain, storage on another chain, and streaming on yet another chain in order to provide a solution or application.
And this is exciting.
For the seeds have been sown, the perseverance and arduous nurturing will bear superior fruits that we can then reap and benefit from. Upwards and onwards!
Lon Wong