OneOverZero Onboards as a ProximaX System Integrator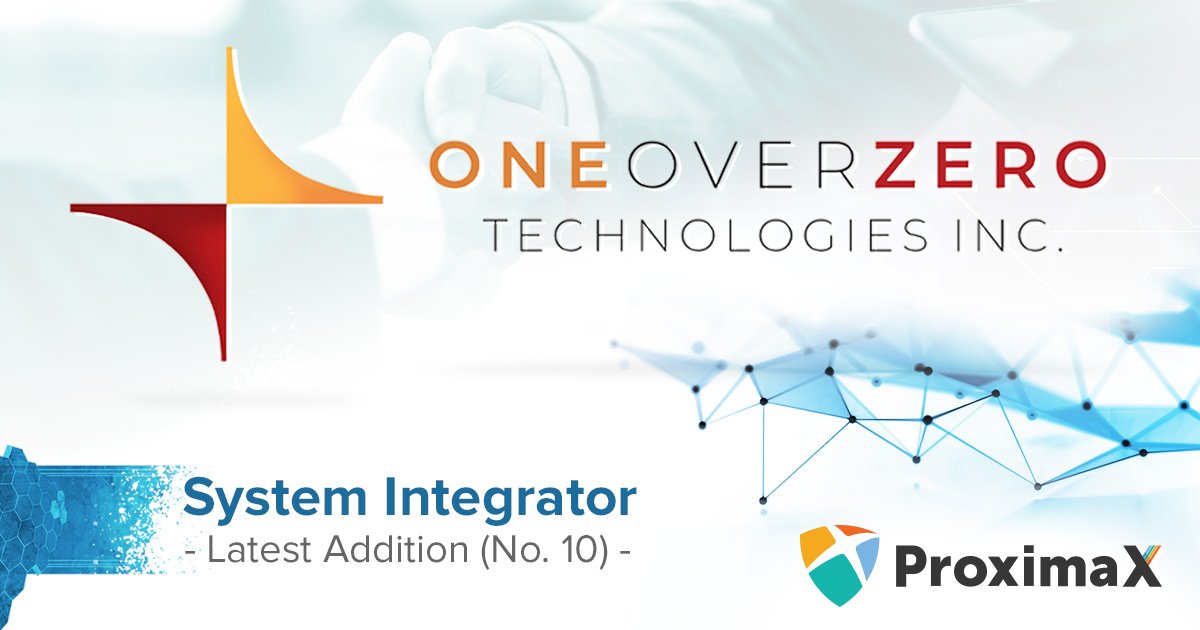 SINGAPORE / MANILA – ProximaX is pleased to announce that OneOverZero Technologies ("OneOverZero") from the Philippines is now a ProximaX system integrator, with a special focus on utilizing the ProximaX Sirius development platform for document proofing, supply chain management, healthcare security, and identity management solutions for both existing and new clients.
An advanced boutique technology outfit, OneOverZero has expertise in consulting and implementation of technology projects in verticals such as infrastructure, application development, network management, and support.
"It is OneOverZero's comprehensive suite of services and progressive spirit to embrace new technologies like blockchain that formed the foundation of this partnership. I'm confident that our collaboration with OneOverZero is on a positive curve and we expect this to benefit not only our business but also our customers," expressed Alvin Reyes, co-founder and CTO of ProximaX.

Equally optimistic about the venture is Raymond Uy, CEO of OneOverZero, "As a result of this collaboration, OneOverZero will now have the opportunity to power applications and solutions using cutting-edge blockchain technology via the ProximaX Sirius development platform. We are excited and look forward to shifting the paradigm of our clients as we go to market with ProximaX."
Under the agreement, OneOverZero is authorized to secure new clients through tender exercises and to co-develop solutions with ProximaX where necessary. As a ProximaX system integrator, OneOverZero also possesses the mandate to implement, test, integrate (with other technologies), support, and maintain projects developed using ProximaX Sirius technology.
Clients that are already using solutions deployed by OneOverZero may experience newer modules that incorporate ProximaX Sirius technology.
"We see ourselves as an advocate of future technologies and we are well aware of the technical challenges that developers face when projects move into the integration phase. As such, we forged ahead from the beginning to ensure ProximaX Sirius can seamlessly integrate with technologies like Hadoop, Apache Spark, VMWare, Amazon Web Services, Arista, Ceph, to name a few, all of which are within OneOverZero's ambit of expertise," affirmed Alvin Reyes. "And what this does is it removes the stumbling block completely as projects inch closer to deadlines and saves on costs and resources."
About OneOverZero
1/0 Technologies Inc. provides system integration services that revolves around open-source technologies and enterprise solutions to help organizations achieve operational efficiency. They offer professional services and consultation to their clients and their vision is to solve IT problems with the ideal solution to fit the organizational needs of the client.
For more information: email support@oneoverzero.com.ph Website https://oneoverzero.com.ph/
About ProximaX
ProximaX is a next-generation Integrated and Distributed Ledger Technology ("IaDLT") infrastructure development platform powered by blockchain technology. Known as ProximaX Sirius, this platform is comprised of off-chain, peer-to-peer storage, streaming, database, and blockchain layers in an all-in-one, easy-to-use development platform. Users of this platform may elect to use the various layers of the ProximaX Sirius development platform in a private, public, or hybrid environment.
The immense flexibility and breadth of use cases of ProximaX Sirius development platform include, but are not limited to, KYC processes, business continuity, video streaming, health, identity, IoT devices and robotics, big data applications, records and reporting systems, traceability, legal and notary services, land registry, trade finance, workforce collaboration, messaging, and supply chain management.
Media Contact: Sue Ng | sue.ng@proximax.io Website: www.ProximaX.io