Doc On Chain launches a tamper-proof digital signature solution, powered by the ProximaX blockchain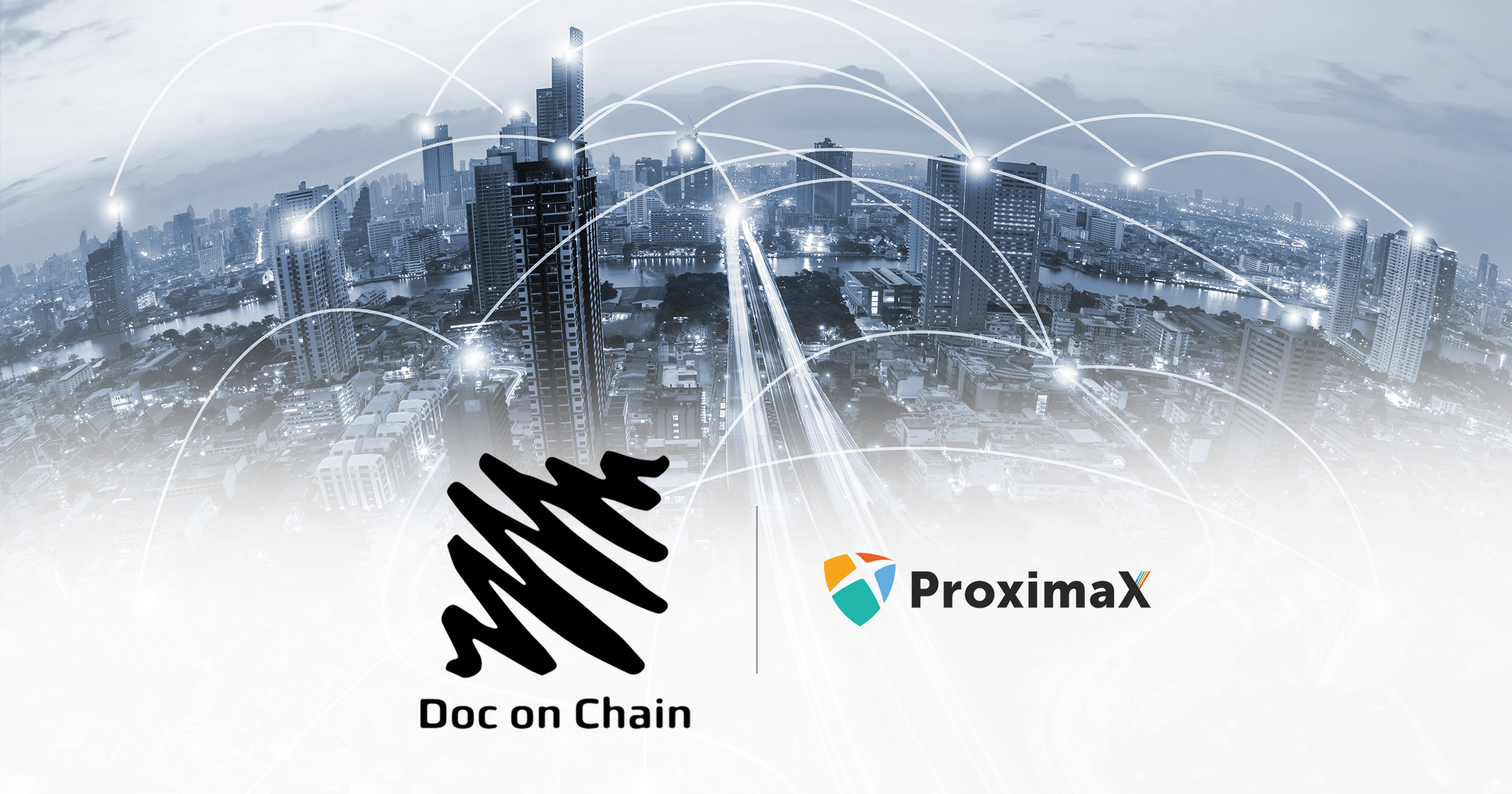 Businesses and administrations now have a secure way of managing documents such as invoices and certificates with Doc on Chain's "D.O.C" platform. This all-in-one Software as a Service solution ("SaaS") will first be launched in South Asia.
HONG KONG – Dec. 19, 2019 – In emerging countries, digital signature technology is a fast-growing industry. Experts expect this market to be valued globally at USD 5.5 billion by 2023. The emergence of a "mobile first" generation combined with blockchain technology will improve efficiency, workflow and security when it comes to signing and managing documents, while significantly reducing cost.

Managed via a blockchain architecture, the D.O.C platform associates tamper-evident digital signatures to a distributed documents storage in a way that is cryptographically secure, privacy-respecting, and machine verified. This enables documents to be digitally signed between two or more parties with the ability to link signatures to credentials to certify identities and let authorities sign.
"The high level of security and services provided will benefit and enable enterprises and governments to increase the use of digital signatures while greatly reducing the costs of document signature management" said by Raymond Bariou, one of the D.O.C founders.
D.O.C is built to facilitate the relationship between participants inside a secure ecosystem which can include issuers, holders, and verifiers of documents. Documents are encrypted, sharded, and distributed across multiple storage nodes, making unauthorized access practically impossible. A mobile application "the D.O.C Vault" for document signers enables them to access documents (to sign and signed) and easily share them with requesting bodies while providing verifiable signature credentials.

A collaboration with ProximaX to develop services on solid foundations
We have decided to build our applications and blockchain architecture on the ProximaX Sirius platform, using our own nodes. This platform provides a solid infrastructure based on the NEM Catapult blockchain and has the distributed file management system that we need to scale our project", said by Frederic Saurat, D.O.C co-founder.
In recognizing the advantages of D.O.C, CEO of ProximaX Lon Wong said, "The current method of signing documents will give way to blockchain-powered solutions because of the level of trust that they create. Our technology does not only store a digital hash, but can also securely store the signed document. Together, with our coming Self-Sovereign Identity application, we are able to provide a more comprehensive solution compared to our industry peers."
This collaboration will also enable the two partners to present end-to-end solutions to governments in Asia and the Middle East before expanding in Africa.

About Doc on Chain
Doc on Chain was founded in 2019, in Hong Kong, by two veterans in technology and business development: Frederic Saurat, a serial tech entrepreneur who has participated in the development of several tech platforms; and Raymond Bariou, a former bank CEO with broad managerial experience across continents.  Doc on Chain is building a Software as Service ("SaaS") platform managed on the blockchain which combines tamper-evident digital signatures with distributed document storage in a way that is cryptographically secure, privacy-respecting, and machine verified.  The company is also providing a digital template library to help governments and enterprises increase their use of digital signatures and save costs when it comes to the management of documents and certificates.

Website: https://www.doconchain.com | Contact: Olivier@doconchain.io

About ProximaX
ProximaX is a next-generation Integrated and Distributed Ledger Technology ("IaDLT") infrastructure development platform powered by blockchain technology. Known as ProximaX Sirius, this platform is comprised of off-chain, peer-to-peer storage, streaming, database, Supercontracts, and blockchain layers in an all-in-one, easy-to-use development platform. Users of this platform may elect to use the various layers of the ProximaX Sirius development platform in a private, public, or hybrid environment.

Website: https://www.proximax.io | Media contact: sue.ng@proximax.io